Awards Ceremony
Our award ceremonies for the 2022/2023 school year will be taking place at 6:30 p.m. on October 13 in Calgary and October 27 in Edmonton.
Invitations for both award ceremonies have been sent out, if you believe you won an award but did not receive an invitation, please contact us at vvactivities@pembinahills.ca.
For students who won an award but cannot make either ceremony, your award(s) will be mailed out to you in early November. We will be sending the award(s) to the address we have on file – if you need to update your address please email vvactivities@pembinahills.ca.
Congratulations to Our Award Winners!
Elementary Honours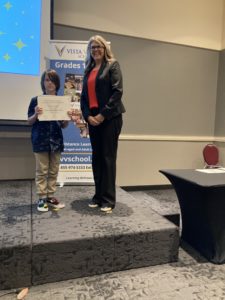 Ashton Hamilton, Leah Bevans and Cohen Macrae-Gardner came to our Edmonton Awards Ceremony to accept their Elementary Honours Awards. While Arlo Hewson accepted his Elementary Honours Award in Calgary!
Junior High Honours:
David Minchin accepted his Junior High Honours Award in Edmonton!
Senior High Core Honours:
Shir Rubin and Colin Fearing both received Senior High Core Honours! Shir accepted in Edmonton, while Colin accepted in Calgary.
Senior High Elective Honours:
Kaiden Brown, Callum Macrae-Garden and Dia Syed accepting their Senior High Elective Honours Awards in Edmonton!
Principals Award
Sean Willier accepting his Principals Award in Edmonton!
Merit Award
Amar Gill accepting his Merit Award in Calgary!