This March, two students from Vista Virtual School (VVS) participated in the annual SEEDS Connections program—a week-long camp for high school students from across Alberta.
The camp, a full-immersion opportunity, focuses on developing teamwork and leadership skills—presented from a multicultural perspective, and highlights environmental stewardship.
"I've never seen a course that solely talks about diversity and acceptance—which really did surprise me," said VVS Grade 12 student Said M., who's been with Vista Virtual School for seven years. "When I heard about it being a course with people from all over the province from different backgrounds, I decided to take this as a chance to learn more about other people's cultures."
The program started in 1987, as a way to connect with others—face-to-face—and create positive change through a blended and cross-cultural experience.
"I think the greatest thing I've learnt from the camp was not to judge others by their appearances and how to be more accepting of others," said Said. "These are things needed in Canada since we do practice multiculturalism and respect."
As "interaction without distractions", it is a mix between an educational outdoor school experience and a safe learning environment.
"It provides necessary skills to improve self-esteem and social skills that students face in their everyday life," said Shelley Rizzo, a science teacher with Vista Virtual School who attended Connections this year and last year. "For example, at the town hall, the discussion focused on whether a pipeline or LNG port are valuable assets to consider putting in the far north where Aboriginal lands and cultures may be affected. And the goal was for the eight groups to come to a consensus as to what's important for this area."
Through highlighting diversity and increasing knowledge of other cultures, attendees use this opportunity to share ideas and reflect on their learning. This was accomplished through activities, challenges and discussions, and working towards a final project that is shared online.
"It taught me how to be a good leader and what it takes to be one," said Said. "A good leader needs to be patient and prepared to listen to other people's ideas. This fits in my career (planning) because power engineering is a team-work job, as you work with the other people working on the plant."
Using a combination of empowering positive change and recognizing the multitude of issues that affect the environment, those attending the program gain a lot of value from the presentations and discussion.
It even ties into real-world activities.
"The underlying message is appreciating cultural differences across our society," said Rizzo. "This was emphasized when news broke on the mosque shootings in New Zealand. Students realized how critical their awareness is and now can take this message back to their schools to stress the importance of cultural diversity in Canada and accepting others as they are…and maybe their actions can even help prevent another tragic event from happening."
The program runs annually, with next year's registration starting in late 2019. VVS high school students are invited to attend and are emailed information about the program each year.
"Everyone comes away with a week of heightened awareness and appreciation for others (including religions and cultures), and tools to deal with self-esteem issues and bullying," said Rizzo. "Everyone is affected at some level, whether relating to themselves or the outside world. And many great friends are made—lots of laughs are exchanged and there are even campfire sing-alongs. It really brings the students together."
Photos from the program (and summaries), as provided by Shelley Rizzo:

Students participated in an activity on different cultures and had to immerse themselves with students and cultures they didn't know about, pick up clues as to what their culture idioms were, and report back their experience.

The Spider web is where the group had to get from one side of the "toxic web"'by passing/moving through the openings in the web. A Sweat Lodge was run by an Indigenous leader.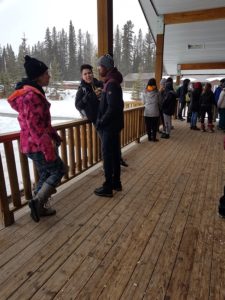 A Town Hall saw all participants researching and presenting a perspective (the VVS student group's topic was World Conservation Organization).