Stephanie Campbell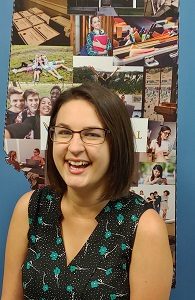 Hi there! My name is Stephanie and I am an Administrative Assistant at the Calgary Campus. My role is to support students and staff.
I have been with Vista Virtual School since June 2018 and Pembina Hills Public Schools since March 2016. I really enjoy working with our students and helping them meet their education goals. I also like problem-solving, so I appreciate when staff and students come to me for assistance. If you ever have questions about the Skills Investment Bursary (SIB) or VVS Student Activities, I'm your go-to person!
In my spare time, I generally binge watch Netflix with my cats, Oliver and Susu. I also enjoy visiting new places and love to travel with my husband whenever we get the opportunity. My favourite destination so far has been Laos!