Awards Ceremony
Thank you to all who attended our Calgary and Edmonton Award Ceremonies!
See you in 2023!
Congratulations to Our Award Winners!
Elementary Honours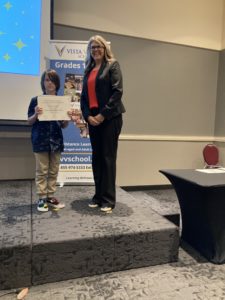 Ashton Hamilton, Leah Bevans and Cohen Macrae-Gardner came to our Edmonton Awards Ceremony to accept their Elementary Honours Awards. While Arlo Hewson accepted his Elementary Honours Award in Calgary!
Junior High Honours:
David Minchin accepted his Junior High Honours Award in Edmonton!
Senior High Core Honours:
Shir Rubin and Colin Fearing both received Senior High Core Honours! Shir accepted in Edmonton, while Colin accepted in Calgary.
Senior High Elective Honours:
Kaiden Brown, Callum Macrae-Garden and Dia Syed accepting their Senior High Elective Honours Awards in Edmonton!
Principals Award
Sean Willier accepting his Principals Award in Edmonton!
Merit Award
Amar Gill accepting his Merit Award in Calgary!